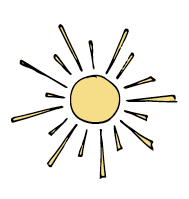 The Whitsundays are not just a natural beauty; we also have plenty of amenities and facilities for sports and adventure lovers. Sailing, snorkelling, cruising, kayaking or just exploring; the Whitsunday's is the perfect destination with each trip aboard Summertime providing a unique experience.
Comprised of 74 continental islands just off the coast of Airlie Beach, the traditional owners of the area are the Ngaro people and the Gia people, whose Juru people has the only legally recognised native title in the Whitsunday Region.    There are a mix of short walks and seaways crossing South Molle, Hook and Whitsunday islands called the Whitsunday Ngaro Sea Trail , these tracks are suited to kayaking, sailing and power boating.  QLD Parks & Wildlife information.
There is also a Ngaro Whitsundays Underwater Art Trail which is a series of sculptures of Turtle, Manta ray, Maori wrasse, Coral polyp and a traditional piece named Bywa. These are located in shallow water depths and can be accessed while snorkelling around the islands.
Airlie Beach is a bustling little resort town located in the heart of the Great Barrier Reef. Allow yourself a couple of days either side of your trip to really enjoy all of the attractions that Airlie has to offer.
Sun soaked days can be spent relaxing by the lagoon, reading recycled books from the local book exchange or indulging in retail therapy at boutique fashion retailers in Airlie's main street… Alfresco cafes and restaurants offer a variety of dining and the Saturday morning markets by the sea showcase the regions fresh produce, art and fashion. Or party the night away in the countless bars and clubs!
Getting to the Whitsundays
The Whitsundays is located in north-eastern Australia, on Queensland's central coast, approximately 1120km north of Brisbane and 630km south of Cairns. The Whitsundays comprises 74 magnificent islands, and the adjacent coast, centred around the coastal town of Airlie Beach.
Road: With the Bruce Highway linking Queensland's major coastal cities and towns, access to the Whitsundays is always easy by road. Major Coach Operators such as Greyhound Australia and Premier Motor Services include the Whitsunday region in their regular services. Coaches from Cairns, Brisbane, Sydney and Melbourne operate numerous times daily.
Alternatively you can hire a car and enjoy the road trip to Airlie Beach, following the Bruce Highway you will find the turnoff just north of Proserpine.
Air: Access to the Whitsundays has never been easier with two domestic airports operating within close proximity of Airlie Beach. Whitsunday Coast Airport (PPP) is approximately a 30 minute drive to Airlie Beach and is serviced by Virgin Australia and Jetstar offering flights from Brisbane, Sydney and Melbourne daily.
Alternatively, you can fly into Hamilton Island and catch the ferry over to the mainland.
(Pictures: Airlie Lagoon, Airlie Main Beach)